Kim Williams Has Your Arkansas B&B Real Estate Needs Covered
Looking for an Arkansas Bed and Breakfast for sale? Curious about the Arkansas real estate landscape?
Arkansas, the Natural State boasts scenic waterways and spectacular views all over. Half of the state is covered in forest land. From Little Rock to Fayetteville, Hot Springs to Eureka Springs, you'll be surrounded by natural beauty and history. From the vastness of the Ozark Mountains to the charm of our small towns, you'll have lots to explore and love here. Many nationwide companies like Walmart, Tyson, and J.B. Hunt call Arkansas home. With a low cost of living compared to other states and higher quality of life that includes outdoor recreation and employment opportunities, Arkansas is a great place to consider investing in real estate.
The state's varied terrain is equaled by the unique lodging properties we have to offer. Our main streets are dotted with lavish bed and breakfasts and quaint, historic inns. Tucked into the mountains are sprawling cabins and one of a kind treehouse resorts. Perched on rivers and lost down secluded roads are properties waiting for your hospitality touch.
Call today: 479-253-4444
Want to own an Arkansas Bed and Breakfast for sale?
Kim Williams is an Inn Consultant & Broker serving both current and prospective innkeepers. Kim has knowledge of the marketplace for B&Bs and can bring her services to assist you in selling or purchasing a B&B or any other type of lodging property. The first stages of buying a lodging property can be daunting. An understanding of the economics of the industry and real estate are important when investing in hospitality real estate. Kim offers valuable guidance from both industries as you search for the property that's right for you.
Have an Arkansas Bed and Breakfast for sale?
Kim will provide professional guidance in assessing and evaluating your inn's location, condition, and financials. While providing an in depth valuation using a proprietary analytical process that helps arrive at a "reasonable and defensible" price. The next step is creating a marketing plan where Kim will consult on marketing tools both virtual and not. Once a suitable offer has been made, Kim ensures the process of negotiating and closing the sale is as seamless as possible for the seller. You've worked hard at developing your lodging business and want to ensure the reputation and legacy lives on. Kim understands the balance between selling and fulfilling the sellers needs.
Whether you are interested in Buying or Selling, Kim will bring over 24 years experience to the table.
Kim is a licensed Realtor in Arkansas helping both buyers and sellers with lodging properties. She's also an affiliate of The B&B Team.
---
Newest Listing: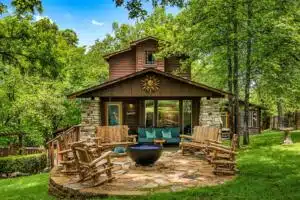 Stunning Cabin Resort in the Ozark Mountains
Broker of Record: Coldwell Banker K-C Realty