The Grand Treehouse Resort is a stunning resort located in the tourist town hotspot of Eureka Springs, AR. Step into luxury at this beautiful resort situated in the heart of town. Contemporary studio style treehouses with raised walkways, hardwood floors, fireplaces, walk in showers, whirlpool tubs and chandeliers are just a few of the upscale features.
The owner has thought of every little detail to make this a one of a kind stay for his guest. Walk to downtown shopping and restaurants, hop on the local trolley system or just cozy up in your room and enjoy the quiet peacefulness that The Grand Treehouse Resort brings.
Well maintained, manicured lawn, private parking per unit, private office and living quarters make up this successful resort that is all situated on 4.6 acres.

https://www.thetreehouses.com/
Eureka Springs has been a destination location since it was established in the late 1800's. It remains one of Arkansas's leading tourist attractions and attracts people from major nearby cities including Tulsa, Dallas, Kansas City, St Louis and Memphis. One statistic that bears emphasizing for the obvious reason of future business potential and growth is that there are over 15 million people within a 250 mile radius.
Tucked in the Ozark Mountains in the northwest corner of Arkansas is Eureka Springs. The Grand Treehouse Resort is located right on Highway 62, a major entry to the town. It has access to downtown Eureka Springs, Beaver Lake, famed Thorncrown Chapel, hiking trails, the White River and much more. Commercial shopping is readily available and within an hour from Eureka Springs. As is Northwest Arkansas Regional Airport (XNA), Fayetteville, Rogers, Branson and Bentonville. This area including Eureka Springs is one of the largest growing areas in the country.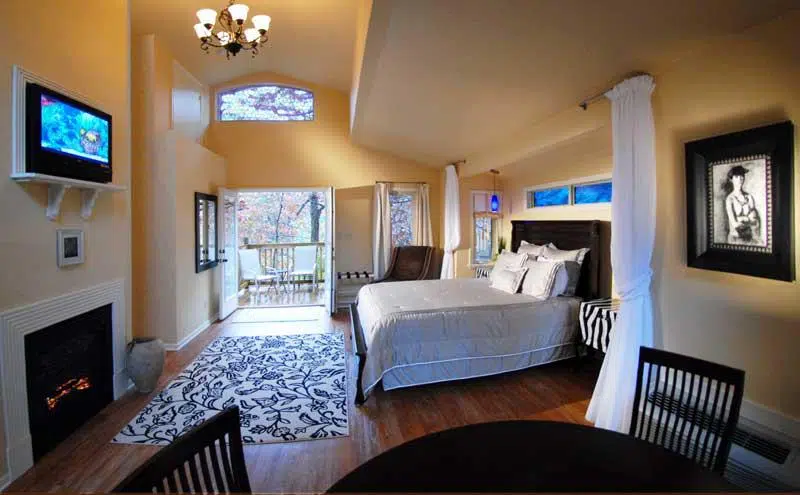 If you are looking for an Arkansas lodging for sale with tremendous quality and features.including a price that is reasonable and defensible, look no further. The Grand Treehouse Resort for sale is offered exclusively by KK Williams Consulting LLC/The B&B Team.
Offering Price: $1,650,000
For details, please contact, Kim Williams, 479-253-4444 of KK Williams Consulting LLC kim@bbteam.com