Solid Financial Stability
This one of a kind, very successful lodging property in Eureka Springs has so much to offer! 7 Hogsveil Cabins, 10 Treehouses built in 2007, 3 Castles build in 2013, 2 Grotto Caves, 4 Hobbit Caves and 2 Avitar caves create this amazing resort. 28 units on 28.20 acres with room to grow!
Step onto the meandering pathway that leads to your magical get-a-way…
Enter through a cave like entry.
As you round a corner you will be immersed in your first glimpse of the Grotto…
Which happens to be a VERY ROMANTIC Jacuzzi for Two!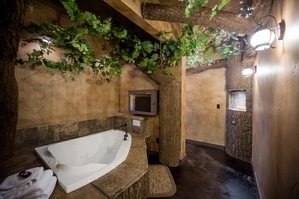 Continue on through rock formations and you enter the curved cavernous cavern to your main living area.
Magically you feel transported to a mystical cavern where a forest is beckoning through a wall of windows.
In the hot market of Eureka Springs, Arkansas located in the Ozark Mountains, I am pleased to offer Eureka Springs Treehouses, Caves, Castles and Hobbits. The magic of owning this property is truly spectacular. Harry Potter themed cabins, secret passageways, private saunas, beautiful fireplaces, whirlpool tubs, dual shower heads are all included.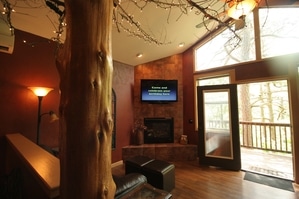 The 10 Treehouses (built in 2007) are perched on cedar logs surrounded by a thick forest canopy. Guests enter and are swiftly whisked away to a romantic destination of their choosing – Venice, Santa Fe, New York, and beyond – and private decks ground guests in the resort's natural surroundings.
7 Hogsveil Cabins form a small Harry Potter themed village and feature jacuzzi tubs and private saunas.
4 Hobbit Caves lead guests through rock formations to a spacious and inviting interior with a wall of windows leading to a private courtyard.
3 Castle Treehouses (built in 2013) evoke a 16th century castle, creating a fairytale guest experience completed by a hidden passage to a Jacuzzi Tower.
2 Avatar Caverns were inspired by the current owners trip to Zhangjiajie National Park.
2 Grotto Caves evoke the calm of a Kauai lagoon.
Location, Location, Location
Located in the heart of historic Eureka Springs. Eureka Springs remains one of Arkansas's leading tourist attractions and attracts people from major nearby cities. This gorgeous property sits on 28 acres with private areas for each guest to enjoy their stay. Eureka Springs Treehouses, Caves, Castles and Hobbits is just minutes from shopping, Beaver Lake, Table Rock Lake and many activities like hiking, biking, golfing. There are many attractions that bring guests to this area, the most popular being its beauty and peacefullness. Eureka Springs Treehouses, Caves, Castles and Hobbits is truly a successful, special resort!
Asking Price: $7,979,067
GRM: 3.8 Cap Rate: 15.2%
If you are looking for Eureka Springs lodging for sale with tremendous quality and features. Plus price that is reasonable and defensible, look no farther. Eureka Springs Treehouses, Caves, Castles and Hobbits for sale is offered exclusively by KK Williams Consulting LLC/The B&B Team.
This is a private resort with employees and guest. There are no driveby's, calling the property or talking to guest. By appointment only! All appointments will be made through Kim Williams only. Buyer of property must maintain health insurance on current employees.
For details, please contact, Kim Williams, 479-253-4444 of KK Williams Consulting LLC.